Some of you are already probably sick of us… I would be too. But hey! This story is worth being told. Austin did such an incredible job planning our engagement surprise that I have to share it. So here it goes:
Every month Austin & I have date night. We switch off on who plans the date, the activity, who pays and it's typically a surprise until the day- of. It was Austin's turn to plan but we had agreed a few weeks ago that we wanted to try out The Lobster down by the Santa Monica Pier & we were going to some surprise concert after. We were early to dinner, so Austin suggested that we walk down the pier a bit & find a pretty spot to watch the sunset. As we are walking, we come upon a bench with a reserved sign covered in sunflowers, pillows, and a basket with champagne (insert panic attack).
After a few minutes, with sweaty hands and crazy beating hearts, I knew what was going on. He ends up proposing (I'll spare you the speech), I'm a crying happy disaster & he suggests calling my parents to tell them the news!
So I call my mom & begin to try to explain what just happened and then out pops my ENTIRE FAMILY & AUSTIN'S FAMILY (insert hysterical crying). Please note, my parents/sister had to fly in from Arizona!
So… We take a few pictures, I start to collect myself & try take in what is happening.
But… that only lasted about 3 minutes because then rolls up a giant party bus! My two best girl friends from Arizona (Tina & Patty) come running out, followed by all our closest friends from college. (Insert more hysterical crying and no breathing)
After we got pictures with the whole clan, we headed to Malibu in a party bus (yes, stripper pole & Grandma included). We arrived at Malibu Cafe & his family had rented out a private area that was all decorated with "She Said Yes" signs, personalized place settings, open bar, twinkle lights and more. We had a delicious dinner, drinks and lots of incredible toasts by our friends/family. I wish I had pictures of the dinner but I was a little overwhelmed & didn't take any 🙁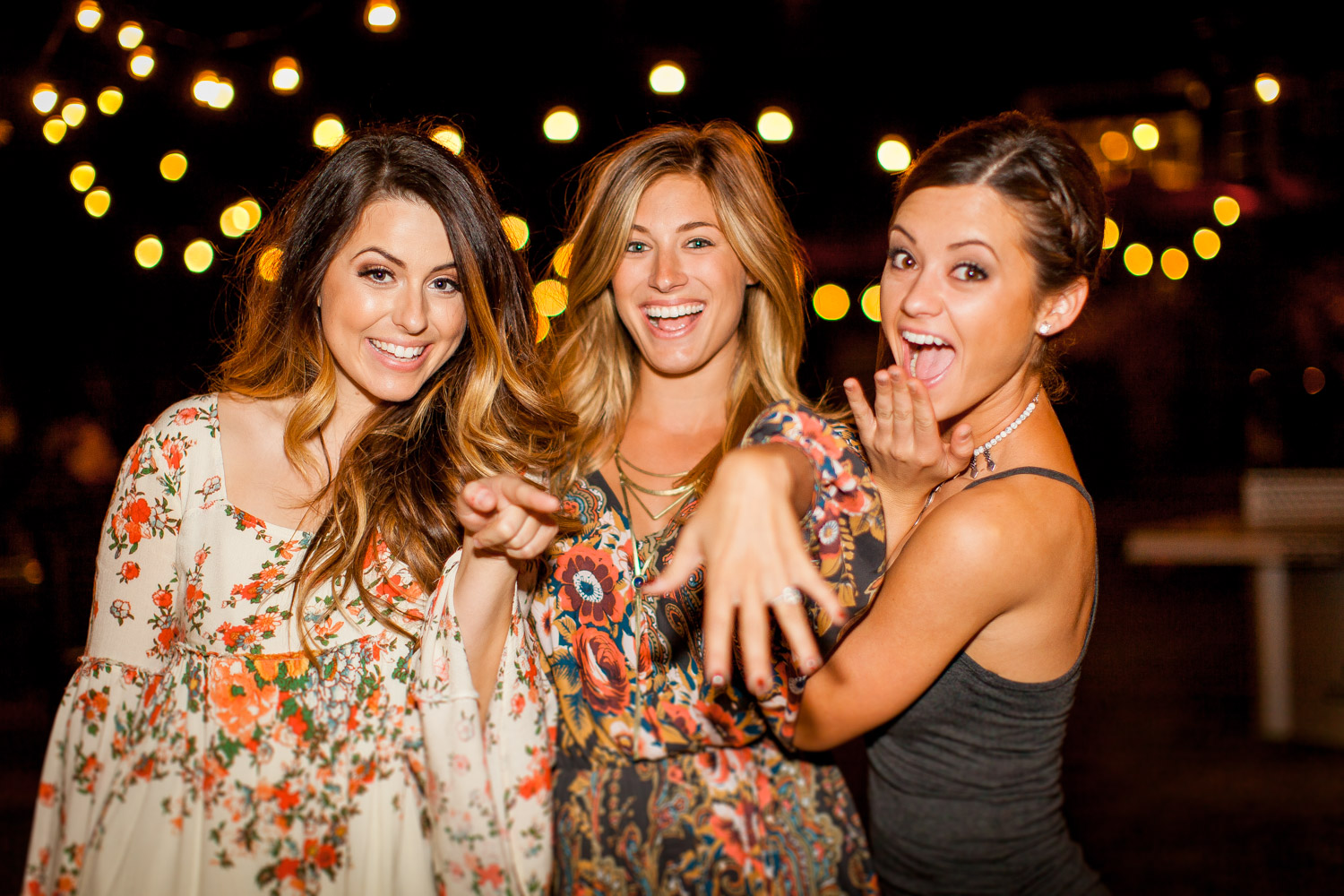 It was definitely one of the best nights of my life thus far. All I can say is that if this is the way our engagement is beginning, I can only thank God for the wonderful journey that this marriage is going to be for the rest of our lives! I love you Austin Huffman!